Bin mal wieder über zwei interessante Kickstarterprojekte gestolpert, die ich mal kurz anpreisen will:
A Cartoon Action Hour: Season 3
Die Idee dahinter ist genauso simpel wie bei der OSR (Old School Renaissance): Frei nach dem Motto "Früher war alles besser" nimmt man dieses Mal statt D&D nämlich die Zeichentrickserien der 80er Jahre vor. Nennen wir die Kinder beim Namen: Master of the Universe, Transformers, Galaxy Rangers und wie sie alle hießen.
Dabei sollen die Regeln das Gefühl der Serien richtig unterstreichen und den Settings eine Zeichentrickphysik verpassen. Warum auch nicht.
Eigentlich sind mir die Regeln auch schnuppe, aber als ich dieses Bild gesehen habe, fingen meine Finger wieder an zu kribbeln. Aber ich glaube, wenn die Sache mal drausen ist, werde ich mir mal das PDF anschauen.
Ebenfalls in trockenen Tüchern ist schon
Exalted - Limited 3rd Edition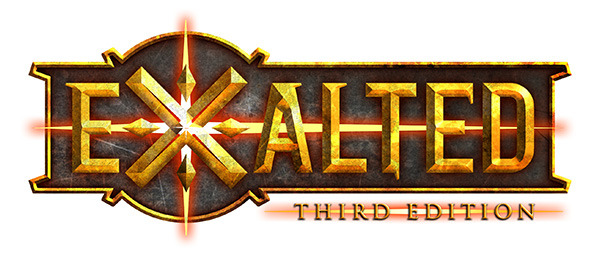 Dabei handelt es sich um eine neu aufgelegte und regeltechnisch aufgebohrte Version eines der interessantesten RPG-Settings seit Call of Cthulhu. Gut, in der Zwischenzeit gibt es noch einige andere, interessante RPG-Welten (z.B. DeGenesis, Engel oder Opus Anima), aber Exalted ist schon einfach eine Besonderheit auf weiter Flur. Dieses Mischung aus Sword & Sorcery, Wuxia, Steam & Gear Punk und High Fantasy ohne EDO-Elementen hat einfach ihren Reiz, dem ich mich nicht entziehen kann.
Allerdings weiß ich nicht, ob er mir 130 $ wert wäre, um das gute Büchlein zu bekommen.

Auf der anderen Seite könnten dann die Second Edition Bücher günstiger zu erwerben sein, was in einer Exalted-Sammlung enden würde. Allerdings würde ich mich echt mal freuen, wenn ein dt. Verlag es nochmal mit Exalted probieren würde. Dem Uhrwerk-Verlag würde ich sowas sofort zutrauen... *hüstel*
Zum Thema "Exalted" hat Ingo von "
Obskures.de
" noch folgende Frage und Aussagen in den Raum gestellt:
Gibt es aus Deutschland ein brauchbares Rollenspiel mit einem einigermaßen nachvollziehbaren Alleinstellungsmerkmal? Ratten? Malmsturm? Degenesis?
"Ratten" kenne ich (leider) nicht, wobei ich immer mir die Frage, was so besonders daran sein soll einen Nager zu spielen. "Malmsturm" würde ich verneinen, weil es einfach ein Sword & Sorcery-Setting ist und davon gibt es auch einige wie Sand am Meer (Conan, Barbarians of Lemuria, Astonishing Swordsmen of Hyperborea,...). Einzig "DeGenesis" fände ich von den genannten Settings als Aushängeschild für Eigenständigkeit. Gut, man könnte jetzt sagen, das "DeGenesis" einfach nur ein Endzeitsetting ist, aber es besitzt doch einige Elemente, die es dann doch in ein anderes Licht rücken.
DungeonSlayers und Das Schwarze Auge sind definitiv austauschbare Stangenware.
Auch wenn ich CK von DungeonSlayers kenne, so muss ich doch leider diese Aussage unterschreiben. Und das DSA Stangenware ist, sollte einem ohnehin klar sein. Gut, "Myranor" hat schon eine gewisse Eigenständigkeit, aber es weht halt immer der etwas muffige Wind von Aventurien in den Westen rüber.
Deutschland baut Autos und Maschinen. In Sachen Fantasy sind wir leider ein Entwicklungsland. Unsere Nachbarn aus Frankreich scheinen kreativer und offener zu sein.
Auch das kann ich nur unterzeichnen. Man muss sich ja auch nur die franzöische Comicszene ansehen. Alleine was in diesem Bereich von unseren westlichen Nachbarn herüberschwappt ist einfach großartig. Dabei denke ich spontan an die Troy-Reihe, Ythaq oder Askell.
Dass Deutschland in Sachen Fantasy ein Entwicklungsland ist, ist eine traurige Tatsache. Gut, seit einigen Jahren gibt es wieder eine gewisse In-Bewegung dank der RPC oder einfach durchs Internet, wo allerorts ein "Nerd/Geek-sein ist cool" suggeriert wird.
Aber, wenn ich einfach mal vergleiche, welchen Stellenwert Fantasy (im Sinne des Fantastischen Genres), Rollenspiele bzw. Tabletops im Amiland hat und wie komisch man sogar tw. in deutschen Rollenspielläden angeschaut wird, wenn man sagt "Hallo, ich bin Weltenbastler!", dann muss man doch sagen, dass bei uns was im Argen liegt. Der Deutsche ist mehr der Konsument und weniger der Selbermacher. Wenn ich einfach mal überlege, wie viele Leute bei "Herr der Ringe" ins Kino gerannt sind und ihn als sehr guten Film bezeichnet haben und von den Bilderwelten einfach begeistert waren, aber im Gegenzug Rollenspieler, Weltenbastler, Romanschreiber, Tabletopper und ähnliche Phantasten als Spinner bezeichnet haben, dann zeigt es mir diese Spaltung wieder sehr stark auf.
Auch werde ich immer wieder das Gefühl nicht los, dass man immer, sobald man etwas Eigenes macht, von der restlichen Gesellschaft, erst einmal skeptisch beäugt wird. Statt motivierende Worte und Begeisterung, gibt es eher verhaltene Reaktion, die mehr nach dem Schema "Mal gucken, was da noch so kommt..." laufen, oder eine eher harsche Kritik, weil man sich vielleicht einige Regeln zu recht biegt, was anderen sauer aufstößt. Überhaupt habe ich immer das Gefühl, dass den Deutschen, gerade im Regelbereich - egal, ob RPG oder TTG - immer sehr wichtig ist, dass diese haargenau eingehalten werden. Es scheint dem eher unsicheren Deutschen einen gewissen Halt zu geben. Fängt man an, an dem Regelwerk rumzuschrauben, bricht Panik aus und es muss sofort nachgeprüft werden, ob es nötig ist oder ob diese Änderung überhaupt haltbar ist. Ich weiß noch, wie ich mal bei meiner alten Warhammer-TTG Gruppe Vorschläge für Schlachten mit Sonderregeln und einer Hintergrundgeschichte vorgeschlagen hatte und wie ich dann von ihnen mit großen Augen und panischer Stimme gleich niedergebuttert wurde, was mir einfallen würde und dass das doch viel zu aufwändig wäre und solche Dinge. Oder bei meine ersten DSA-Runde, wo ich noch als Spieler aktiv war und jede Handlung vom dem SL auf die Goldwaage gelegt wurde.
Naja, egal. Ich drifte hier schon wieder etwas ab, aber ich glaube eben, dass der durchschnittliche, deutsche Phantast halt doch ein kleiner Bürokrat ist, der sich brav an seine Regeln hält und alles, was er nicht kennt erst einmal skeptisch beäugt. Und diese Unsicherheit und Skepis ist es eben, was sehr gegen den doch eher "Everything is possible"-Gedanken der Fantasy geht.
Neben Earthdawn gehört Exalted zu den wenigen recht brauchbaren High Fantasy-Rollenspielen.
"Earthdawn" ist durchaus eine interessante Variante des EDO-Themas und es macht auch durchaus Spaß, die Welt zu erkunden. Wenn man jetzt noch die EDO-Elemente gegen Eigenständigkeiten ausgetauscht hätte, dann wäre "Earthdawn" bestimmt ein RPG geworden, welches man in einem Atemzug mit "Tékumel" genannt hätte.
Wenn es ein deutschsprachiges RPG gibt, welches sich mal gewaltig von den klassischen Elementen abhebt und den Anspruch der Eigenständigkeit besitzt, dann wäre dies "
Opus Anima
". Leider ist das System und die Welt etwas versandet, obwohl hier wirklich viele, interessante Elemente und eine gute Genredurchmischung dem Leser und dem Spieler dagebracht wird.
Manchmal frage ich mich ernsthaft, was geschehen wäre, wenn statt DSA ein anderes Setting wie eben "Opus Anima" oder "DeGenesis" als erstes, großes, deutsches RPG das Licht der Welt erblickt hätte. Würde nun ein großer Teil der dt. Rollenspielgemeinde nur noch als Steampunker oder Primalpunker unterwegs sein und würden sie bei EDO-RPGs die Nase rümpfen? Wer weiß das schon...