-T-
Der Thought Eater ist eines der superstrangen Aushängeschilder von D&D. So ein Zombie-Psyduck-Ding, dass im Äther herumschwebt, ist einfach irgendwie verflucht cool und es war eine dieser Kreaturen aus dem ersten Monster Manual, welche mich sofort in ihren Bann gezogen hat.
In den späteren Kompendien der 3rd Edition wurde der Thought Eater optisch "aufgepimpt" - wenn man es so nennen mag - und durch eine Art Zombie-Ratten-Vogel-Wolf-Ding ersetzt: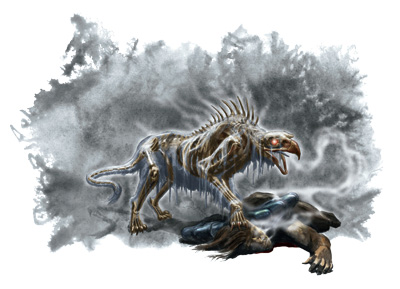 Die Frage ist nur: Warum eigentlich? Gut, dass Schnabeltierzombieding ist schon irgendwie befremdlich, aber das ist ja auch irgendwie da geniale an der Sache. Alleine von der Zeichnung her hätte der Original-Thought Eater in eines von Walter Moers "Zamonien"-Bücher gepasst. Ok, das ist vielleicht eher mein eigener Geschmack, aber ich fand die alte Fassung einfach klasse. Schon die Vorstellung, wenn die Heldenparty in den Äther blickt und dabei diese im Raum schwebenden Dinger schemen- und geisterhaft sieht, ist einfach wunderbar.
Aber, was tun, wenn man nun die Schnabeltierzombiedingsis pardou nicht haben will?
Spontan fallen mir die Kreaturen von Lovecrafts "Vom Jenseits" (From Beyond) ein:
Diese Kreaturen leben auch in einer parallelen Dimension und ihre Auswirkungen auf den menschlichen Geist sind bei weitem auch alles andere als gesund. Und sie sind weniger knuffiger als das Platypusdingsi.
Weitere Möglichkeiten wären irgendwelche wurmartigen Kreaturen oder lebende Hirnmasse. Auch schwebende Tintenfische oder vielleicht was Quallenartiges könnte ich mir als Ersatz gut vorstellen.
Gaia: Ich bin mir nicht so ganz sicher, ob es sowas wie Gedankenfresser auf Gaia schon gibt. Vielleicht muss ich mal meine Notizen sichten, aber theoretischen könnte es sie geben, denn es gibt den Ätherraum und auch dort lebende Wesen, welche man mit den normalen Sinnen nicht wahrnehmen kann.
Cimorra: Unter dem Gesichtspunkt, diese Wesen als Dämonen zu betrachten, könnte es sie auch auf Cimorra geben. Gerade mit dem Vergleich zu "From Beyond" fällt mir gerade ein, wie cool es wäre, wenn ein Magier eine Aparatur gebaut hätte, welche die Dimensionen aufreißt und diese Kreaturen in die Realität von Cimorra sickern würden.
Zecken sind ja an sich schon eklig, aber wenn sie noch eine gewisse Größe erreichen, wird es richtig widerlich. Und allein die Vorstellung, wenn so eine Riesenzecke sich auf einen Menschen stürzt und ihn wie eine Capri Sonne auslutscht, da ist dann schon ein kleines Horrorfeeling vorprogrammiert.
Warum wird eigentlich nicht mehr mit Riesenzecken gemacht? Riesenspinnen, Riesenmotten oder Riesenwürmer gibt es en Masse, aber Riesenzecken? Da gäbe es doch echt mal Nachholbedarf.
Irgendwie denke ich da gerade an Zecken als Facehugger oder wie aufgeblähte Riesenzecken durch Raumschiffkorridore kriechen und sobald sie von einem Maschinengewehr getroffen werden wie ein praller Pickel zerplatzen und alles mit Dreck und Blut vollsauen. Da bekäme SF-Splatter eine vollkommen neue Bedeutung.
Weil ich vorhin auch auf Walter Moers verwiesen hatte: In seinem Zamonienepos "Die 13 1/2 Leben des Käpt'n Blaubär" gab es riesige Läuse, die in den filzigen Haaren des Bolloggkopfes, einem Riesenkopf nur ohne Riese, hausten. Dies ist eigentlich eine sehr plausible Erklärung für Riesenzecken: Je größer das Tier, welches man aussaugen kann, desto größer könnten auch die Zecken sein.
Gaia: Es käm jetzt ganz auf die Größe der Zecken an, aber es gibt auf Gaia die titanischen Ochds, riesige, zottelige Tiere, die groß genug sind, um ganze Siedlungen auf ihrem Rücken zu beherbergen. In diesen turmhohen Tieren könnten auch entsprechend große Zecken hausen, wobei sie aber auch nicht zu groß sein sollten, um nicht vollkommen gegen die Konventionen Gaias zu verstoßen.
Cimorra: Auf Cimorra gibt es einiges an pulpiger Freakiness und somit passen Riesenzecken, genauso wie Riesenwürmer, Riesenspinnen, Riesenblutegel, Riesenskorpione und ähnliches. Hier verweise ich auch mal auf die Szene aus "King Kong", als die Film- und Schiffscrew in dem Abgrund saßen, wo aus allen Löchern riesige Viecher gekrochen kamen. Dieses Bild hat mich sehr fasziniert und sehr für Cimorra geprägt.
The Black Galaxy: Irgendwie komme ich von dem Gedanken der Alien-Monster-Zecken nicht weg und würde sie gerne mal auf einem der riesigen Raumschiffmoloche ansiedeln.
Titan
Gäähn... Ähm. Ja. Titanen.
Die Titanen aus den Kompendien fand ich immer recht fad, da sie meine Vorstellung von Titanen einfach nicht erfüllen. Wenn ich an Titanen denke, dann denke ich an göttliche Urgwalten und nicht an irgendwelche größeren Riesen mit magischen/psionischen Kräften. Titanen sollten göttergleiche Urgewalten sein und damit gehören sie eher in das Buch über Götter und Halbgötter als wie ins normale Kompendium.
Auch dass sie einfach wie Riesen aussehen muss nicht sein. Ihr Aussehen könnte vollkommen variieren. Im Grunde ist das einfachste Rezept zur Herstellung richtiger Titanen: Nimm eine Kreatur und verbessere sie bis ins Unglaubliche. Nimm zum Beispiel ein Erdelementar und vergrößere es ins Titanische. Oder vielleicht eine Marilith-Dämonin als eine Art Schlangengöttin. Oder ein anderes gutes Beispiel ist der Kraken aus "Kampf der Titanen". Riesige Monster sind übel, titanische aber sind wahrhaft apokalyptisch.
Um sie sollte, nein! muss eine entsprechende Story gesponnen werden. "Kampf der Titanen" ist diesbezüglich ein gutes Beispiel. Hier sind wirklich epische Elemente wie göttliche Artefakte, mächtige Monster und wahrlich großartige Helden von Nöten, um dem Ganzen gerecht zu werden.
Allerdings passen Titanen nicht in jedes Setting. Zumindest nicht als übermächtige Wesenheiten. Doch spinnen wir mal ein wenig rum. Würde das Konzept des Titanen, also eine titanische Lebensform, nicht auch auf andere Konzepte übertragbar sein? Konzepte wie z.B. der Sandwurm ala "Dune" oder auf einen Kampfroboter. Das letzte Beispiel hat ja auch seine ganz eigenen Früchte getragen:
Am Beispiel eines Imperator Titans zeige möchte, kann man zum Beispiel die Eroberung des Titanen oder auch seine Zerstörung als ein Abenteuer gestalten. Ja es ist sogar möglich einen Megadungeon in dem Titanen zu erschaffen. Es gab sogar bei D&D ein Abenteuer (der Name ist mir aber entfallen), bei dem die Helden einen amokgelaufenen, titanischen Eisengolem aufhalten mussten.
Gaia:
Titanen im klassischen Sinne passen nicht zu Gaia. Als riesige Maschinen hingegen könnte es theoretisch vorkommen, dass man sie vorfindet. Aber auch hier würde ich sie nur sehr, sehr vorsichtig und eher als eine Art Dungeon statt einer direkten Bedrohung einsetzen.
Cimorra:
Auch wenn Cimorra die Epik von "Kampf der Titanen" oder "God of War" einfangen kann, so glaube ich, dass wenn ich Titanen einbaue, dass sie sehr, sehr selten sind und wirklich eher mit einer Art Gottheit/Großem Alten gleichzusetzen ist.
Toad, Giant
=> siehe
Frog, Giant
Trapper
Was mir dazu aber einfällt, wäre der T-1000 aus "Terminator 2". Und zwar meine ich die Szene, wo er sich als Bodenbelag getarnt hat:
Das wäre eine Alternative. Eine Art Formwandler, der sich als Boden tarnt und dann sich zu einem Monster verwandeln kann, um so seine Beute zu fangen.
Aber dies nur mal so als Gedankenspiel, auf das ich nicht näher eingehen will.
Treant
Barumm!
- Baumbart
Ein Zitat des wahrscheinlich bekanntesten Baumhirten überhaupt.
Wo wollen wir anfangen? Baumhirten kommen mir, gerade bei D&D, immer sehr märchenhaft rüber. Ähnlich im Grunde auch wie bei Herr der Ringe, weshalb sie auch irgendwie nur so in ein entsprechendes Setting hineinpassen. Solche Wesen wären in einem Sword & Sorcery-Setting vollkommen fehl am Platz. Aber das kann man ja ändern. Ich verweise hier auf meinen Eintrag über die
Dryaden
in der MM&P-Reihe sowie auf meine
EDO in Sword & Sorcery
-Überlegungen.
Gerade eben habe ich aber auf Tumblr folgendes Bild entdeckt, was zum Thema "Baumhirte" doch ganz gut passt.
Triton
=> siehe alle anderen im Wasser hausenden Rassen von denen es bei D&D einfach viel zu viele gibt.
Troglodyte
Noch ein Fall für "Namensvergewaltigung".
Troglodyten sind "Höhlenbewohner" und haben eigentlich nichts mit Echsenmenschen gemein. Vielmehr muss ich bei dem Namen an Steinzeitmenschen, vielleicht sogar die hyperboreanischen Voormis oder auch an "Sindbad und das Auge des Tigers" denken, wo ein seltsamer, aber ansonsten einfach genialer Troglodyt zu sehen war:
Wieso, weshalb und warum D&D hier mal wieder diese Wörterdreher drinnen hat, kann ich einfach nicht beantworten. Und irgendwie fände ich auch die Sindbad-Variante viel cooler als die Echsenversion. Die Echenmenschen scheinen es mit ihren Abarten schon irgendwie ein Problem zu haben (siehe
Kobold
). Also, da bekommt man echt Kopfschmerzen, wenn man da zu sehr drüber nachdenkt, wie man auf die Namen gekommen ist. Eine namentliche Alternative würde da z.B. die Kroxigore aus der "Warhammer"-Welt bieten. Aber wie ich schon beiden Kobolden sagte: Namen sind Schall und Rauch. Mein Fazit hier steht auf jeden Fall fest: Troglodyten haben nichts mit Echsenmenschen zu tun. Punkt!
Gaia:
Da es keine Echsenmenschen auf Gaia gibt, gibt es auch keine größeren Echsenmenschen. Problem gelöst.
Cimorra:
Ja, es gibt Echsenmenschen und vielleicht auch größere Echsenmenschen, aber Troglodyten sind definitiv keine Echsenmenschen, sondern eben viel mehr affenartige, humanoide Kreaturen.
Troll
Ich glaube, es gibt kaum eine Rollenspielrasse - außer Orks vielleicht - welche so oft in so viele unterschiedlichen Formen auftaucht wie der Troll. Diese reichen von einem harmlosen Schrat aus den Wäldern über Steinwesen, die in Gebirgen hausen, graublaue, gorillaartige Humanoide bis hin zu den garstigen und widerlichen D&D-Trollen. Sie werden als eigene Rasse oder auch als magische Kreaturen bis hin zu Feenwesen - was durch die befremdliche Bezeichnung des Feentrolls kommt - angesehen. Egal, wie viel man über die Trolle erzählen kann, bestimmt vergisst man immer noch einiges. Daher will ich jetzt kaum was dazu noch sagen, denn eigentlich kann man schon fast jede Kreatur als Troll betrachten und somit eröffnen sich eine Unmenge an Möglichkeiten, wie man seine Trolle basteln/definieren möchte.
Gaia:
Neben den Zwergen sind die Trolle die einzige EDO-Rasse, welche meine Reinigungsaktion überlebt haben. Beim Aussehen der Trolle, besonders der Bergtrolle, habe ich mich schon etwas von den Trollen von Hordes inspirieren lassen. Das gebe ich offen zu.
Cimorra:
Ich weiß gar nicht, ob ich Trolle für Cimorra eingeplant hatte. Glaube eher nicht. Dafür gibt es ja z.B. die Halbriesenrassen. Aber wer weiß, wer weiß...