-S-
-Teil 1-
Sahuagin
Und wieder ein aquatischer Seitenfüller. Wie schon an vielen anderen Einträgen vermerkt, finde ich, dass es D&D mit aquatischen Rassen übertreibt bzw. sie nicht kreativ genug sind, um einen eigenen Standpunkt zu haben, weswegen sie lediglich immer wieder und wieder auf eine Alternative einer am Land lebenden Rasse (Thema "Orkersatzstoff"). Daher will ich mich jetzt auch gar nicht über das Für und Wieder der Sahuagin auslassen, da es im Grunde mit anderen Einträgen relativ deckungsgleich ist.
Salamander
Salamander sind so eine Sache. Gerade weil hier Name und Bild irgendwie nicht zusammenpassen will, was vielleicht einfach an unserer deutschen Sprachprägung kommt. Bei dem Namen "Salamander" und gerade bei dem Bezug zum Feuer denke ich da doch eher an eine ganz andere Kreatur: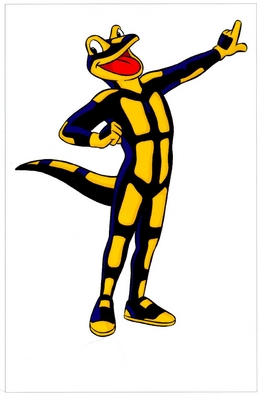 Oh! Moment! Falsches Bild! Ich dachte eher an Folgendes:
Besser, aber...
So falsch war ich mit dem Bild von Lurchi eigentlich nicht, denn die Beschreibung des D&D-Salamanders ist eine fremdartige Rasse von der Ebene des Feuers. Betonung liegt hier wirklich auf Rasse und so könnte ich mir eine humanoide Echsenrasse der Feuerebene gut vorstellen. Besser auf jeden Fall als diese seltsamen Schlangenviecher. Das Bild, dass ich dabei dann vor Augen hätte, würde in die folgende Richtung tendieren:
MotUs Whiplash - Nur eine andere Farbe wäre nett.
Ein Slaadi - dazu aber später mehr...
Oder man gibt den D&D-Salamandern einfach mal einen anderen Namen, damit das Ganze ein etwas anderes Gefühl hinterlässt bzw. eine stimmigere Atmosphäre erzeugt.
Natürlich wäre es auch möglich, die Salamander als eine Art Drachen darzustellen. Eine saurierartige Riesenechse, welche zudem noch Feuer speien kann.
Gaia: So direkt fällt mir nicht ein, wie oder ob die Salamander, egal wie, auf Gaia auftauchen sollten.
Cimorra: Auf Cimorra gibt es das Volk der Sharuar, welche man am ehersten mit den Salamandern gleichsetzen könnte. Optisch gehen sie aber mehr die "humanoide Echsen/Drachen"-Richtung wie in den oberen, optischen Beispielen aufgezeigt.
The Black Galaxy: Hier will ich nur mal wieder vermerken, dass solche elementaren Rassen sich sehr gut als Bewohner von extremen Welten eignen. Gerade sonnennahe Welten können von einem Volk hitzeresistenter Drachenwesen bevölkert sein.
Satyr
Satyre finde ich grundlegend sehr cool. Sie decken eine große Bandbreite von Möglichkeiten ab und können von harmlosen, vielleicht eher frechen, aber auch lustvollen Wald- und Naturbewohnern über wilde Tiermenschen bis hin zu cthulhoiden Terror alles abdecken:
Der lustvolle Satyr


Der verspielte/feenartige Satyr
Der bestialische Satyr
Der lovecraftsche/diabolische Satyr
Die Möglichkeiten, welche diese Kreaturen bieten, sind extrem vielfältig und decken so viele Aspekte ab, dass man als Spielleiter mit ihnen seine wahre Freude haben kann. Je nachdem, welche Rolle erfüllt werden soll, kann man sich bei den Satyren bedienen:
Satyren im Zeichen des Slaanesh => Mischung aus Lustvoll und Lovecraft/Diabolisch.
(Frivole) Schelme => (Lustvoll) Verspielt/Feenartig
Hüter des Haines, Elfenersatz => Verspielt/Feenartig
Krieger des Chaos, Orkersatz => Bestienartig
Kinder von Shub-Niggurath => Lovecraft/Diabolisch
Diese Beispiele zeigen wunderbar die Flexibilität der Satyren an. Mit einigen kleinen Modifikationen kann man sie auch ohne entsprechende Welten/Settings anpassen. Hat man zum Beispiel eine exotische Welt auf afrikanischer Basis, so könnte man Satyren aus Antilopen statt aus Widdern herstellen.
Gaia: Auf Gaia hatte ich mal Tiermenschen in der Aschewüste gehabt, aber diese sind durch die Ähnlichkeit zu "Warhammer" wegreduziert worden. Seit dem gibt es Satyre nur noch als Sagengestalten und evtl. in Form von Kirathus.
Cimorra: Hier haben wir das exakte Gegenteil vorliegen. Ob ich die Satyre als Volk auf Cimorra einführen werde, weiß ich noch nicht. Aber mit Bezug auf den dämonischen Aspekt der Wesen könnte ich sie mir doch ganz gut wie die Männer von Leng oder eben als Kinder von Shub-Niggurath/Yog-Sothoth vorstellen.
Scorpions, Giant-
Hier stellt sich nur die Frage: Wie groß hätten sie es gerne?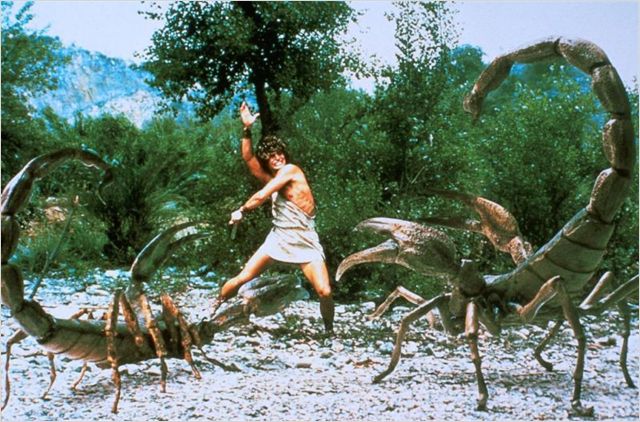 Groß oder...
...extrem-motherfucking groß?
Sea Horse & Sea Lion
Sind eigentlich echt keinen Kommentar wert. Klassische Kreaturen hin oder her, aber gerade den Punkt mit dem Seelöwen finde ich halt schon sehr zwiespältig. Genauer gesagt: Mir sind die normalen Seelöwen, also die Tiere, lieber. Für eine Märchenwelt kann man sie ja verwenden, aber im Großen und Ganzen würde ich diese Einträge einfach ignorieren.
Shadow
Schatten gehören zum Standardreportoire von D&D. Diese untoten Geister bzw. Bewohner der Schattenebene gehören zu den schaurigsten Elementen des gesamten Spiels. Warum?
Weil man einen Schatten nicht fassen kann und man bemerkt ihn kaum. Und dann sind noch die Ursprünge des Schattens. Ein Schatten kann ein untoter Geist sein, ein Dämon aus einer Höllendimension oder einfach nur der Schatten einer sonst unsichtbaren Kreatur.
Schattendämon von "Game of Thrones"
Schön-grausame Beispiele für Schatten bietet unter anderem "Game of Thrones" mit dem hexengeborenen Schattenassassinen, der "Malleus Monstrorum" von dem Cthulhu-RPG mit dem Schatten als Anti-Version der Farbe aus dem All oder C.A.Smiths mörderische Dämonenbestie in "Der doppelte Schatten".
Auch könnte man Schatten als Eigenschaftensystem mit anderen Wesenheiten kombinieren, um zum Beispiel Schattenwächter, Schattenhunde, Schattenbestien oder ähnliche Kreaturen herzustellen.
Gaia: Auf Gaia könnte es Schatten als Kirathus sehr wohl geben. Zumindest kann ich sie mir als beschworene Dämonen sehr gut und passend zu dem Setting vorstellen.
Cimorra: Hier könnte man wieder die volle Bandbreite an mögliche Varianten einsetzen und so die Spieler ständig mit neuen Abarten des Themas konfrontieren.
Shambling Mound
Der Wandelnde Schlurfer - oder auch eher humorvoll als "Wandelnder Komposthaufen" bezeichnet - ist eine von jenen Kreaturen, mit denen ich noch nicht so viel anfangen konnte. Ich weiß nicht genau woran das lag. Vielleicht habe ich als Kind zu oft die Fraggles und die Allwissende Müllhalde gesehen: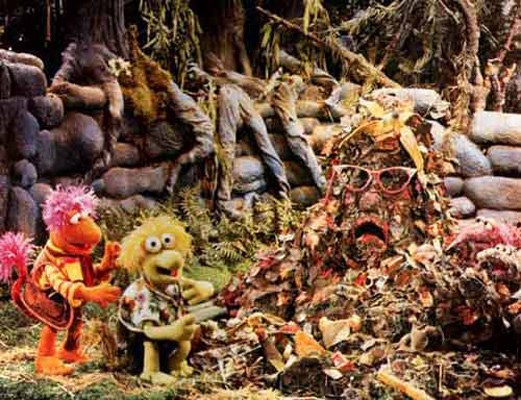 Ein biologischer Jabba the Hut sozusagen.
Eine Einsatzmöglichkeit, die mir einfallen würde, wäre den Schlurfer als eine Art "Swamp-/Man-Thing" einzusetzen. Also als eine Art Mensch/Monster-Pflanzen-Mutant. Gamma World lässt grüßen!
Die Alternative wäre eher...
Irgendwie bin ich heute nicht so recht zum ernsthaften Referieren fähig.
Gaia:
Wie ich mich für das Monster an sich nicht wirklich bis dato erwärmen konnte, so wird es noch weniger eine Gaia-Variante dieser Kreatur geben.
Cimorra:
Theoretisch und wenn es passt, könnte ich mir denken, diese biologischen Schrecken als ein Monster auf die Menschheit loszulassen. Aber echt nur, wenn mir nichts einfällt.
The Black Galaxy:
Unter dem Aspekt des "Man-Thing" bzw. Mensch-Pflanzen-Mutanten könnte ich mir die Kreaturen evtl. in "The Black Galaxy" irgendwo vorstellen.
- Ende Teil 1-