-R-
Rakshasa
Die Rakshasa basieren in ihrer Idee auf einen indischen Dämon, welches durch das äußerliche Auftreten eines humanoiden Tigers unterstrichen wird. Was die in den späteren Editionen verdrehten Händen aber bedeuten sollen, kann ich immer noch nicht nachvollziehen.
Das die Darstellungen der Rakshasa sich aber von der D&D-Form gewaltig unterscheiden, ist ja eigentlich schon irgendwie klar. Das Bild des Tigermenschen ist nur ein Element, welches die Rakshasa annehmen können. In Wahrheit ist ihre Erscheinung wesentlich komplexer, wie man an dem folgenden Beispiel erkennen kann:
Mit diesen Kreaturen hatte ich aber auch schon in meiner RPG-Jugend meinen ersten Kontakt, als ich sie in der legendären DSA "Schwertmeister"-Box vorfand. Dort waren sie mehrköpfige und mehrarmige Riesen, welche in ihrem Aussehen der indischen Originalversion recht nahe kamen und welche sich bei mir auch ins Gedächtnis eingebrannt hat. Daher vergleiche ich auch immer wieder diese beiden Versionen untereinander, wobei mir die DAS-Fassung definitiv am besten gefällt.
Liest man nun noch die Beschreibung der Kreaturen auf Wikipedia, so wird einem rasch klar, dass es sich bei den Rakshasa eigentlich eher um eine Kreaturengruppe als um nur eine spezifische Kreatur handelt:
"Nach dem Rigveda waren die Rakshasas nächtliche Geister, die häufig als Tier erscheinen, wie Geier, Eule, Hund oder Tiger, können aber auch in Gestalt Furcht einflößender Menschen auftreten. Auch als unsichtbare Geister drangsalieren sie Menschen und stören deren Opferhandlungen. Es wird ihnen nachgesagt, dass sie Blut trinken und Menschenfleisch verzehren. In bildlichen Darstellungen haben sie oft große, blutige Fangzähne. Das Ramayana schildert das Aussehen der Rakshasas von Lanka. Hiernach können sie außerordentlich hübsch aussehen, aber auch furchterregend und entstellt. Manche haben Tierköpfe, andere mehrere Gliedmaßen oder nur ein Ohr oder Auge, sie können zwergenhaft oder riesig sein, ausgemergelt oder fett mit hängenden Brüsten." – wikipedia.de
Sprich: Eigentlich müsste man die Rakshasa eher wie Dämonen oder Teufel behandeln, da sie sehr viele unterschiedliche Erscheinungsformen haben. Oder man erschafft sie wieder nach einem Baukastensystem.
Dank der Beschreibungen und der Bilder der Rakshasa kann man auch recht einfach Alternativen erschaffen. Theoretisch könnte man sie in einen anderen Kulturkreis verlegen und somit zum Beispiel nordische Jotun Trolle …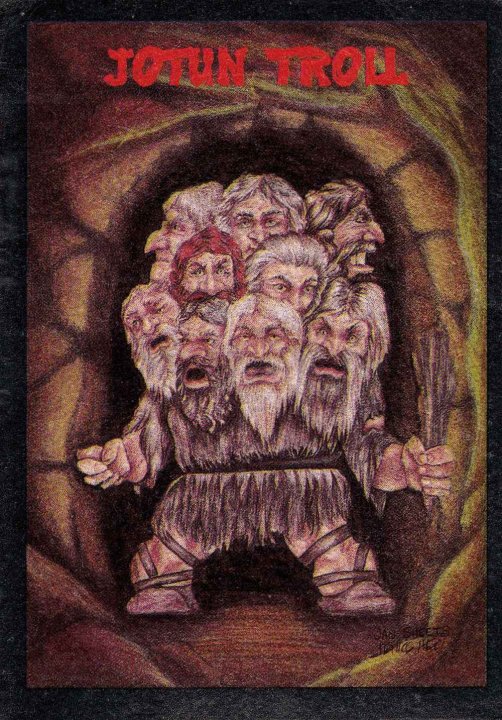 …oder griechische Hekatonchrien erschaffen. Natürlich bieten sich diese extremen Verwirrungen aus Köpfen und Armen auch als Ausgangslage für ein cthuloide Kreatur an.
Gaia: Auf Gaia gab es mal Rakshasa (hier: Rakasta). Mit "gab" meine ich jetzt nicht, dass ich sie direkt aussortiert habe, sondern dass es sie einmal auf der Welt gab, bevor sie von den Cha'Iru vertrieben wurden. Die Rakasta auf Gaia waren optisch eine Mischung aus der D&D- und DAS-Version: Mehrarmige Riesen mit mehreren Tigerköpfen. Die Frage, die ich mir nun stelle ist nur noch, ob das Aussehen so bleibt, oder ob ich es noch einmal überarbeiten werden, damit sie besser ins Bild Gaias passen.
Cimorra: Auf Cimorra könnte es Rakshasas geben. Nur frage ich mich eher, wie ich sie einsetzen würde, denn "Böse Tigergeister" passen nicht so direkt in das Setting und ob die andere, indisch angehauchte Fassung in das Setting passt, bin ich mir auch nicht so sicher. Allerdings kann ich sie mir unter dem Aspekt des Monsters und dann mit einem gewissen Bezug auf Einmaligkeit gut vorstellen.
Rat, Giant
Dazu will ich nur kurz ein paar Worte sagen, ohne die Ratten als wirklich schöne und intelligente Tiere in Missgunst treiben zu wollen: Riesenratten können die Basis für eine komplett eigene Mythologie darstellen. Über die Skaven von Warhammer Fantasy über die mysteriösen Funde der Rattenkönige hin zu den "Dunklen Jungen" aus Hohlbeins "Hexer"-Reihe, in der weiße Riesenratten die Kinder von Shub-Niggurath waren. Ratten sind morbide und widerlich. Sie bringen Pest und Tod in die Städte und stehen für Fäulnis und Verfall. Ratten können jedes Setting in eine stinkende, abartige Finsternis stürzen. Besonders eben Dark-Fantasy-Settings ala Warhammer, verkommene SF-Settings, wo man diese mutierten Bestien in den Kanalisationen der Megastädte erwartet oder eben auch im Weird-Horror-Bereich, wobei ich da z.B. besonders an Lovecrafts "Träume im Hexenhaus" denke.
Gaia: Bestimmt gibt es Ratten oder auch Riesenratten und gewisse Mutationen von Ihnen auf Gaia. Besonders in den Untergründen und Kanalisationen der großen Städte kann man sie vorfinden.
Cimorra: Auch hier gilt das Gleiche wie bei Gaia. Aber ich könnte mir gerade mit Bezug auf Riesenratten gut wirklich monströse, wolfsgroße Ratten vorstellen, die in den stickigen Sümpfen hausen. Dabei springen mir zum einen die Riesenratte aus "Die Braut des Prinzen" wie auch diese Rattenhunde aus "Willow" ins Gehirn.
Ray
Hier möchte ich nur mal kurz auf den Artikel vom 13.11.2012 über die Ixitxachitl verweisen, die Thematik ja doch in gewissen Maßen ähnlich ist:
MM&P - I
Remorhaz
Wieder ein Fall von Überflüssigkeit. Naja, nicht ganz.
Der Remorhaz, ein magische Mischung aus Tausendfüßler und Kobra, befindet sich so in etwa auf der gleichen Stufe wie der Frostwurm oder der Behir bzw. man könnte mit geringstem Aufwand aus einem von den beiden sowas wie den Remorhaz gestalten.
Auf der anderen Seite besitzt die Kreatur doch ein nettes, pulpiges und old-schooliges Äußeres und fügt sich gut in entsprechende Settings ein. Außerdem könnte man ihn auch ganz gut von seinem sonst eher eisigen Umfeld auch in Wüsten- oder Sumpfgebiete stecken.
Da stellt sich doch eher die Frage: Wer ist überflüssig? Der Remorhaz oder der Frostwurm? Vom Stil und den Moddingmöglichkeiten her gesehen dürfte meine Wahl klar sein.
Gaia: Hier liegt es wieder an dem Problem der Plausibilität. Ob es wirklich eine solche Kreatur geben könnte ist fraglich. Unter dem Gesichtspunkt, ihn als Dämon zu behandel, wäre es durchaus möglich. Ansonsten eher weniger.
Cimorra: Auf Cimorra könnte ich mir diese Wesen sehr gut vorstellen, das sie vor allem optisch gut ins Setting passen würden. Auch mit den theoretischen Varianten für Wüsten und Sumpf würde der Remorhaz gut funktionieren.
The Black Galaxy: Hier beziehe ich mich auf den optischen Pulp-Aspekt der Kreatur, der sehr gut in das Setting passt und so kann ich mir auch sehr gut Wüsten- oder Einödplaneten vorstellen, auf denen diese Monster zu Hause sind.
Roc
Der Vogel Roc ist ein Klassiker der arabischen Märchenwelt. In 1.001 Nacht wird der Roc als riesiger Vogel beschreiben, der so gewaltig ist, dass er einen Elefanten oder sogar ein Segelschiff verschleppen kann. Über das eigentliche Aussehen wird eigentlich nie etwas gesagt. Daher findet man immer wieder Darstellungen in Form von Adlern oder Geiern.
Will man die Sache etwas interessanter machen, kann man einen Blick in Lovecrafts "Dreamlands" werfen und sich die dort lebenden Shantak-Vögel anschauen, die auch von großem Ausmaß sind und definitiv eine interessante Erscheinungsform bieten:
Desweiteren ist natürlich der Bogenschlag zu Drachen und Phönix auch nicht mehr weit und so könnte ein Roc auch ein riesenhafter Drache oder ein überdimensionaler Flugsaurier sein. Mit ein bisserl Brainstorming kann man da schon einige interessante Varianten erschaffen.
Gaia: Nein, keine Riesenvögel. Zumindest nichts natürliches, das größer ist als ein Kondor. Fliegende Wale hingegen sind keine Vögel…
Cimorra: Durchaus könnte ich mir, auch auf Grund einiger Elemente, die ich mir ohnehin aus 1.001 Nacht, besonders von den Sindbad-Filmen, geborgt habe, könnte ich mir vorstellen, dass es in den Hochgebirgen auch diese Riesenvögel gibt.
Roper
Hmmm…Jaa…Also, einen Oskar für den kreativsten Namen bekommt dieser bizarre Bewohner der Unterwelt nicht. Überhaupt finde ich auch, dass der Name "Roper" irgendwie ein anderes Bild in meinem Kopf erzeugt als ein Tropfstein mit einem Auge, Maul und sechs Tentakeln. Unter dem Namen denke ich eher an einer Art Baumkrake oder ähnliches, mit langen, dünnen Tentakeln mit diesen sie sich von Baum zu Baum schwingt. Und ihre Beute fängt.
Für dieses Felsmonster aber sehe ich da eher Schwarz. Auf einer einen Seite mag es ja ganz nett aussehen, aber auf der anderen Seite erinnert es mich irgendwie zu sehr an den Piercer, den ich auch nicht so sinnvoll finde. Aber: Der "Roper" (mir fällt auch jetzt gerade nicht der dt. Name ein) könnte als einzelnes Monstrum vielleicht ganz nett sein.
So könnte der Roper auch einfach in die Weird-Ecke verschoben werden und somit zu einer älteren Wesenheit, einer Dienerrasse oder vielleicht auch einer Gottheit werden. Und schon wäre dieses Wesen um ein vielfaches interessanter. Und mit Bezug auf das Bild von Zak Smith oben bekommt der Begriff "Tentakelporn" doch gleich wieder eine gewisse Bedeutung.
Gaia: Auf Gaia gibt es keine Roper. Weder in der alten noch in einer alternativen Version.
Cimorra: Hier sieht es natürlich wieder ganz anders aus. Hier könnte ich mir diese Monster gut unter dem Aspekt "Weird" sehr gut vorstellen und auch entsprechend als Monster, Dämonen oder Gottheiten verwerden.
The Black Galaxy: Hier könnte man sogar noch einen Schritt weiter gehen und die Roper in eine eigenständige Alienrasse umwandeln. Und schon denke ich wieder an Kodos & Kang von "The Simpsons".
Rot Grub
Diese kleinen, fiesen Würmchen sind eine von diesen Zwiespältigkeiten, die zwar als Kreaturen geführt werden, da sie ja auch Kreaturen sind, ihre Wirkung aber eher etwas von einer Krankheit hat. Alleine die Überlegung, diesen Würmern Lebenspunkte und ne Rüstungsklasse zu geben, finde ich schon irgendwie grenzwertig und erinnert mich an die gute, deutsche Bürokratie. *kotz*
Wenn man aber diese Würmer in einen anderen Kontext setzt, so würde es für mich Sinn ergeben, ihnen, oder eher dem neuen Produkt, Wert zu verleihen. Ich denke da z.B. an die "Worms that Walk", diverse Dämonen aus Cthulhu oder auch an die Wurmdämonen von "Earthdawn", um nur ein paar Möglichkeiten zu nennen. Auch eine Art Boogieman, nur ohne Sackhülle, könnte ich mir denken. In dem Fall würden die Würme wirklich eine richtige große Bedrohung darstellen und man könnte den Krankheitseffekt mit ihnen kombinieren. Ansonsten finde ich, dass die Würmer eher erzählerisches Potential haben als wie dass man sich großartig mit ihren Attributen und Kampfwerten rumärgern muss.
Gaia: In den Gossen der Großstädte, verlassenen Grabstädten oder in feucht-warme Morasten kann man sich gut mit Fäulniswürmern anstecken. Und wenn man mal die Aspekte der Kirathus mit einbezieht, so besteht auch die Gefahr eines dämonischen Wurmwesens.
Cimorra: siehe Gaia.
Rust Monster
Zum Schluss heute noch ein Klassiker. Die Rostmonster gehören zu D&D wie die Betrachter oder die Illithiden. Lustig fand ich immer, dass sie nur für Rüstungsträger bzw. auf für Schwertkämpfer eine Gefahr darstellen – oder vielleicht für die eine oder andere Zwergenmine, wenn die Dinger sich an den Erzflözen vergreifen. Ansonsten sind sie doch eher harmlos.
Um sie interessanter zu machen, würde ich ihnen in ihrem Schwanz eine Säuredrüse einsetzen, welches eigentlich alles zerfrisst. Also Eisen, Fleisch, Knochen und nur eine schleimigen Mineralienbrei übrig lässt, welcher dann durch einen Rüssel aufgesaugt wird. Eine Idee.
Auch gab es mal eine Idee für ein mechanisches Rostmonster, wobei ich dies irgendwie seltsam finde. Diesbezüglich hätte ich die Idee, eher eine Art "Eisenassimilator" zu erschaffen. Also ein Wesen, welches jedes Eisenteil in sich auf nimmt und somit seinen maschinellen Körper erweitert. Ich denke da gerade an so etwas im Stile der "Goldenen Armee".
Es regeneriert und erweitert sich ständig durch neues Metall. Auch nur mal so eine Idee.
Gaia: Rostmonster im klassischen Sinne wird man auf Gaia eher nicht finden. Obwohl sie gar nicht so absurd in ihrem Aufbau sind. Naja, wer weiß. Vielleicht doch. Mal schauen. Die Golemvariante ala "Goldene Armee" mit einem gewissen Borg-Verhalten ("Ihr werdet assimiliert werden!") könnte ich mir allerdings sehr gut vorstellen.
Cimorra: Die Säurespucker-Variante des Tieres würde gut nach Cimorra passen. Aber auch die normale Version. Warum nicht?