"The horror! The HORROR!" - The Heart of Darkness
Bei meinen Recherchen zu der "Monster Manual"-Philosophie-Reihe bin ich immer wieder und wieder über bekannte Kreaturen der Antike gestolpert. Dabei ist mir immer wieder und wieder, auch beim Lesen von Artikeln und Spielberichten, aufgefallen, dass die meistens "Standard"-Monster in Rollenspielpublikationen als Klingenfutter herhalten müssen - unabhängig ob sie eher klein und winzig sind oder doch riesenhafte und grauenerregende Bestien.
Ein Beispiel:
SL: "Ihr betretet die Halle und euch steht eine neunköpfige Hydra gegenüber!"

Party: "Juhu! Eine Hydra! Die brauchen wir noch, um aufs nächste Level zu kommen!"
Ja, ich sprech da etwas aus Erfahrung. Sicherlich ist das Beispiel sehr primitiv dargestellt, aber es kommt oft genug in dieser Richtung vor. Wie ich schon in schon in meinem
Artikel über den Einsatz von Monster
geschrieben hatte, so bringt es auch definitiv nichts, wenn man sie zwar verhalten, aber stimmungslos einsetzt.
Und deswegen: Bring back the...
Wenn man Monster einsetzt, so "alltäglich" sie dem normalen Hacker und Slayer oder sonstigem Rollenspieler auch erscheinen, um so wichtiger ist es, ihnen etwas von ihrer alten Macht und Herrlichkeit zu geben. Dabei sollte der SL sich an zwei einfache Regeln halten:
1. Nenne es NIE beim Namen!
2. Umschreiben, umschreiben, umschreiben!
Nenne es NIE beim Namen!
Wie ich schon in dem Artikel über den "
Unbekannten Feind
" geschrieben habe, ist der größte Fehler der ein SL in egal welchem Setten machen kann, den Namen des Gegners zu nennen. Wenn man ein gehörtes Monster gleich als Minotaurus präsentiert bekommt, geht gleich jedes Potential an Spannung flöten.
Selbst bei "seltenen" Monstern ala Cthulhumythos reicht eine einfache Erwähnung des Names aus, um schon die Spannung zu senken. Das Namenlose, das Fremde ist das, was den Protagonisten schon immer Angst gemacht hat. Nenne das Grauen beim Namen und es hat einiges an seiner Macht verloren.
Niemand wird bei er Erwähnung eines Minotaurus in Panik verfallen, aber wenn man ein ungeschlachtenes Monstrum umschreibt, welches irgendwie menschlich, als auch tierisch ist, umgeben von einem widerwärtigen Gestank und geziert ist mit zwei großen, gebogenen Hörnern, dann sieht die Sache ganz anders aus.
Auch hilft es immer viel, wenn man das Monster nicht frontal vor den Charakteren aufbaut, sondern es aus dem Hinterhalt zuschlagen lässt. Es bleibt dabei möglichst lange verborgen und unerkannt, schlägt aus der Dunkelheit heraus zu und verschwindet dann wieder. Die entgüldige Offenbarung kommt erst ganz zum Schluss.
Umschreiben, umschreiben, umschreiben!
Also, wie schon gesagt: Etwas beim Namen zu nennen ist schon mal ganz schlecht. Ebenso schlecht ist es, das Wesen direkt zu beschreiben. Wenn man ein "kräftig gebauten Menschen mit Stierkopf" beschreibt, weiß jeder, was einem da gegenüber steht. Daher ist es sogar noch besser, eher die Stimmung und das Monstrum zu umschreiben anstatt es zu beschreiben. Beschreibt also eher was die SCs riechen und hören. Den Gestank, welchen die Bestie erzeugt oder ihr Schnauben, Jaulen oder Jammern. Beschreibt Gefühle, die sie haben könnten. Die Beschaffenheit des Bodens auf dem sie sich bewegen. Lasst Holz knarzen, Matsch unter dem Druck der Füße zerfließen oder Steine und Sand, die gegen die Sohle drücken. Erklär was sie sehen, ohne ihren Feind sehen zu können. Flackernde Fackeln, Schatten in der Dunkelheit. Nutze Luftbewegungen und erzeuge so einen eiskalten Schauer, welcher am Rücken hochkriecht.
Es gibt echt verdammt viele Möglichkeiten, wie man eine schaurige Stimmung erzeugen kann. Mehr Tipps dazu kann man diversen Horror-RPGs wie zum Beispiel "Cthulhu" oder auch "Ravenloft" entnehmen.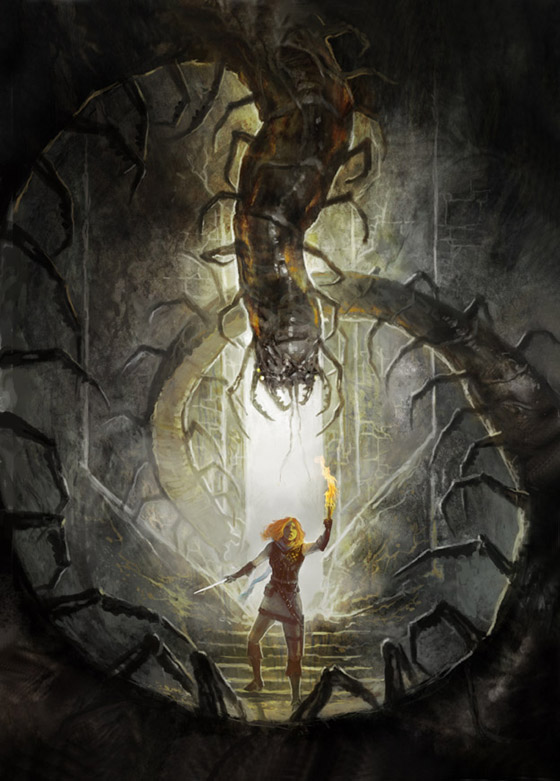 Aber! Aber! Man muss die Sache auch noch Settingsbezogen betrachten!
Horror in Sword & Sorcery - Oder: The barbarian, the mages and the scared rest of the world of Cimorra
In der Sword & Sorcery haben wir oft comichaft überzeichnete Welten voller Gefahren, Mythen und Dämonen. Und in einem solchen Setting kann man eigentlich eines nicht gebrauchen: Krieger, die beim Anblick eines Monsters sich in die Fellhose machen.
Betrachtet man dieses Setting einmal genauer, so erkennt man eine Dreiteilung der Charaktere in Bezug auf den Horror durch Monster, Dämonen und Übernatürliches:
(Barbaren-)Krieger
Magieanwender
Der Rest
(Barbaren-)Krieger
Barbaren wie Conan oder Kull sind dafür berühmt jeder Gefahr, egal ob sie sterblicher oder teuflischer Natur ist, zu trotzen. Gleiches gilt auch für Krieger, der zivilisierten Welt, welche in ihrem Leben schon umfangreiche Erfahrungen mit dem Bösen in der Welt erlebt haben. Sie fürchten weder Tod noch Teufel, sondern stellen sich sogar den grauenhaftesten Bestien entgegen. Vielleicht erfolgt eine kurze Schreckstarre, aber kurz darauf stürzen sie sich in den Kampf, egal wie aussichtslos dieser auch sein mag.
Grundlegend haben sie eigentlich keine Angst vor irgendwas. Die Barbaren mögen vielleicht keine Magie und im Allgemeinen ist alles Unnatürliche den Kriegern unheimlich, aber sie brechen niemals in Panik aus oder fliehen vor der Gefahr.
Magieanwender
Unter dem Begriff verstehe ich alle Arten von Zauberern, Beschwörern, Nekromanten, Priestern, Druiden, Hexern und ähnlichem. Diese haben einen gewaltigen Vorteil gegenüber den Kriegern und dem Rest: Sie hatten schon immer mit dem Übernatürlichen und dem Monströsen zu tun. Dadurch sind sie gegenüber der erschreckenden Wirkung dieser Kreaturen mit einem unnatürlichen und dämonischen Ursprung besonders resistent. Auch wenn es keine S&S ist, aber wenn man sich mal das Bild von Gandalf und den Balrog ins Gedächtnis ruft, so hatte die dämonische Präsenz keine Auswirkung auf den Magier.
Der Rest
Und dann gibt es noch den Rest, der keine Veteran in der Schlacht ist und auch nichts mit Magie am Hut hat. Ich spreche hier von Dieben, Wachen, einfachen Soldaten, Bauern, Händlern, Dirnen, Prinzessinnen, Edelleuten und ähnlichem, besonders aber auch einfache NSCs. Sprich: All jenen, die in der Zivilisation leben und/oder kaum bis selten die in größere Konflikte verwickelt waren.
Diese sind jene, welche die Wirkung des Horrors in seiner ganzen Fülle abbekommen. Lasst sie schreiend wie aufgescheuchte Hühner herumrennen, wenn das Grauen über sie hereinbricht. Vielleicht können sie sich ja fangen und dem Feind entgegenwerfen - wenn sie nicht schon vorher von ihm verschlungen wurden...
Andere Settings: Gaia & The Black Galaxy
Gaia: Gaia unterliegt in ihrem Verhalten in etwa den Regeln von Cimorra. Auch sie besitzt eine comichafte Überzeichnung und die Regeln für die Charaktere im Kontakt mit Horror und Monstern können genauso angewandt werden.

The Black Galaxy: Hier haben wie viel mehr normale Charaktere - nicht nur, aber sie sind nicht immer vollkommen überpowerte Superhelden oder Magier - welche mit der teilweise sehr brutal mit der Finsternis des Universums konfrontiert werden. Hier kommt es aber sehr darauf an, wie man die klassischen Monster einsetzt. Setzt man zum Beispiel Medusen oder Minotauren als Rasse ein, so sind sie vielleicht strange und für vollkommen unbedarfte auch angsteinflösend, doch ist das trotzdem ein ganz anderes Level als wenn sie wie Monster behandelt werden.


Fazit

Mit den Techniken von Horror-RPGs und besonders durch Verfremdungstechniken wie dem Kampf gegen das Namenlose und mehr die Umschreibung der Situation statt der Beschreibung des Feindes, lassen sich ungeheuer spannende Situationen herstellen in denne die SCs ihrem schlimmsten Albtraum entgegentreten müssen. Und selbst, wenn dieser ein Gegner ist, der sonst für viele Spieler nur als EP-Lieferrant angesehen wird.
Also, viel Spaß beim Zerreißen und Experimentieren mit den Nervensträngen der Spieler