- I & J -
Imp
Imps sind die schwächste Form der Teufel und nehmen auch mehr die Rolle eines bösen Vertrauten ein. Auf der einen Seite finde ich, dass Imps eine netter Erscheinung sind. Ähnlich wie eben Vertraute, kleine Elementargeister, kleine Konstrukte oder ähnliche Wesen (siehe Homunkulus) geben sie einem Magier bzw. dem Setting einen kleinen, exotischen und sehr magischen Flair. Auf der anderen Seite sind sie allersdings auch wieder Opfer des Gesinnungssystems von D&D. Imps sind halt nun mal rechtschaffend-böse Teufelchen und z.B. keine Quasits, welche einer chaotisch-bösen Gesinnung anhängen.
Ich finde das eigentlich immer recht schade bei D&D, dass die Gesinnungen scheinbar viel wichtiger sind als individuelle Ziele oder Interessen. Es kommt mir irgendwie so vor, als ob es nur schwarz und weiß - und neutral - aber keine Zwischenschattierungen gibt. Sicherlich kann man sagen, dass ein Teufelchen eine bösartige und hinterlistige Kreatur ist. Aber ob es immer streng rechtschaffend handelt oder doch mal eher zu einem chaotischen Verhalten tendiert möchte ich nicht so eingrenzen. Ich denke da auch sehr an "Transformers: Revenge of the Fallen", wo im Prinzip auch klargestellt wurde, dass das Tragen des Autobot- oder das Decepticon-Logos nichts mit dem zu tun hat, was man denkte, tut und fühlt.
Daher tendiere ich auch eher dazu, bei D&D weitläufig auf die Gesinnung zu pfeifen und den Wesen eher im Spiel die Gesinnung zu verpassen, die zu ihren Zielen und Bestreben passen.
Gaia: Teufelchen auf Gaia sind geringe Kirathus, welche voll und ganz unter der Knute ihres Beschwörers stehen und ihnen als Diener, Boten oder Vertraute dienen.
Cimorra: Auch hier sind die Teufelchen lediglich niedere Diener von mächtigen Hexern.
Intellect Devourer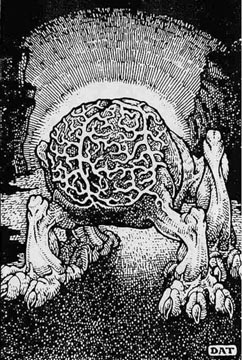 Lovecraft lässt grüßen! Mit dem Intellect Devourer hat D&D ein wahrlich bizarres Monstrum in die Runde geworfen, welches dank seines seltsamen Aussehens und seiner bösartigen Fähigkeiten ein wirklich fieser Gegner ist. Dummerweise kann man dieser nur nicht richtig einsetzen, wenn man nicht im Besitz der PSI-Kraftregeln ist. Das ist ein Nachteil für alle PSI-Kreaturen - und eine richtig böse Marketingstrategie von D&D, denn um sie einsetzen zu können, benötigt man das PSI-Regelbuch. Aber Hausregeln sei dank, kann man das auch ohne zusätzliche Regeln lösen. In meinen alten D&D-Sessions konnten die Devourer einfach einen Angriff direkt auf die Intelligenz des Gegners durchführen und diese schmerzlich reduzieren, was einfach darin endete, dass das Opfer irgendwann zu einem sabbernden und gäffernden Etwas zusammengebrochen ist.
Die Frage, die ich mir nur manchmal stelle, ist, wie so eine Kreatur oder auch die anderen "Weird"-Elemente in die doch eher klassischen Settings passen. Auf der einen Seite brechen sie den angestaubten Muff der EDO-Settings auf, doch auf der anderen Seite sind sie immer ein gewisser Widerspruch. Naja, muss jeder SL selber wissen, ob er sie einsetzen möchte oder nicht.
Was ich auch sehr interessant fände wären einige Abarten der Intellect Devourer, wie vielleicht eine humanoide oder Primatenversion. Auch eine eher schmarotzerische Variante, die eher klein und unscheinbar oder auch unsichtbar ist, und ihrer Beute heimlich, still und leise den Verstand raubt.
Gaia: Intellect Devourer wird es auf Gaia kaum in der Form gegeben. Unter den Kirathus gibt es einige, welche ihre Opfer in den Wahnsinn treiben und sich dann von ihrer Angst oder auch ihrem Verstand ernähren. Die Version des Mindrippermonsters wird es da eher nicht geben. Aber sagt niemals nie...
Cimorra: Auf Cimorra kann ich mir die Intellect Devourer hingegen schon besser vorstellen. Entweder als eine Art von Dämon oder eine Kreatur aus vergangenen Zeitaltern. Definitiv ein Wesen, das man als Monster behandeln und relativ spärlich einsetzen sollte.
The Black Galaxy: Hier fallen mir zwei Verwendungszwecke ein: Zum einen könnte man sich eine weiterentwickelte, zivilisiertere Form vorstellen, welche vielleicht als Dienerrasse der Illithiden agiert oder auch als eine eigenständige Rasse existiert, die immer auf der Suche nach Welten sind, deren Verstand sie verschlingen können. Zum anderen könnten die Devourer aber auch interessante Waffen sein. Sie werden auf einer Welt in großer Zahl ausgesetzt und beginnen die Bewohner langsam um den Verstand zu bringen. Dies könnte bei einer Welteroberung einen strategischen Vorteil bringen.
Invisible Stalker
Nur ein Kommentar dazu: Warum? Wir haben doch den Aerial Servant. Nehmt ihn, klatscht noch ein paar Stufen drauf und fertig ist der Käse.
Ixitxachitl
Kann mir mal jemand verraten, wie man den Namen aussprechen soll?!? Da bekommt man einen Knoten in Zunge und Hirn! Neben dieser Herausforderung sind diese bösartigen Rochen auch noch eine zivilisierte Rasse von Unterwasserbewohnern. Dies ist ein ordentliches Brocken, denn eine Rasse von Rochen eben als Rasse und nicht nur einfach als monströse Tiere zu behandeln ist definitiv nicht einfach. Vielleicht war es ein Grund, warum ich mit diesen Wesen nie etwas Großartiges anfangen konnte. Zum anderen finde ich aber Rochen als Flugtiere ala "Battle Chasers" viel interessanter:
Gaia: Auf Gaia gibt es Rochen im Meer, aber auch in der Luft als Flugrochen. Beide Sorten sind aber Tiere und werden, insbesondere die letzte Variante, auch als Reittiere verwendet. Ich sage da nur "Sci-Fantasy-Jetbike".

Cimorra: Auf Cimorra gibt es auch nur normale Rochen. Man könnte höchstens die Ixitxachitl als monströse Rochen verwenden, aber nicht unbedingt mit einer großen Intelligenz segnen.

The Black Galaxy: Auf Grund der "Everything is Possible"-Devise könnte ich mir hier sogar eine Wasserwelt vorstellen, die von den Ixitxachitl bewohnt werden. Wenn man die Sache mal weiterspinnt und ihnen noch eine fähige Sklavenrasse unterstellt, besteht auch die Chance eine Flotte von befremdlichen, mit Wasser gefüllten Raumschiffen zu erschaffen.


Jackalwere

Auch nur ein Kommentar: Why?! Was kann das, was ein Werwolf nicht kann? Nur weil er ein Schakal ist, der menschliche Gestalt annehmen kann und kein Mensch, der eine Wolfsgestalt annimmt, braucht er doch keine eigenen Werte?!?! Naja, egal...