- D -
- Teil 2 -
Displacer Beast
Das Displacer Beast oder Versetzerbestie ist wieder ein D&D-Klassiker mit einem doch recht willkürlichen aussehen. Denn warum hat diese Raubkatze Tentakel auf ihrem Rücken? Zu welchem Zweck? Schließlich scheinen sie nichts mit der Versetzerfähigkeit der Kreatur zu tun zu haben.
So why?!
Zudem ist die Fähigkeit der Versetzerbestie auch etwas strange...wobei strange ist ja auch wieder gut. Aber: Die Kreatur erscheint 3 Fuß von ihrem eigentlich Standort entfernt. Es ist also immer ein reines Glücksspiel, um das Monster zu treffen.
Hm...Also, irgendwie kann ich damit leider nicht so viel anfangen. Irgendwie stehen Aussehen und Fähigkeit in keinem guten Verhältnis zu einander. Allerdings erinnert es mich auch wieder etwas an die Khymeras der Dark Eldar von Warhammer 40k:
Und irgendwie musste ich dabei an die Hunde von Tindalos denken:
Und schon habe ich eher ein Bild von interdimensionale/-stellaren Aliens/Dämonen vor mir, die plötzlich erscheinen und Dank einer Art Kurzstreckenteleportation blitzschnell ihre Position ändern können.
Daher macht die Versetzerbestien stranger, alienesk und bizarr bis zum geht nicht mehr. Eure Spieler werden euch...ähm...lieben...
Gaia: Versetzerbestien auf Gaia könnte ich mir entweder nur als Kirathus oder als eine gezüchtete Killerkreatur der Alchemisten von Zhaiarac vorstellen. Ansonsten wird es schwer, die Kreaturen nach Cimorra zu bekommen.
Cimorra: Hier könnte man dem Konzept der fremdartigen Alienkreatur folgen und die Bestien als Alternative zu den Hunden von Tindalos verwenden. Vielleicht als Wesen einer unbekannten Dimension, die von Magiern beschwört werden können oder als außerweltliche Bewacher eines Tempels oder eines mächtigen Artefaktes ähnlich dem Wächter des Leuchtenden Trapezoedrons.
The Black Galaxy: Auch hier bieten sich die Versetzerbestien als eine bizarre Alientierart an, welche sich zwischen den Dimensionen bewegen und so blitzartig ihre Beute schlagen können.
Djinni
Hier haben wir einen sehr allgemeinen Klassiker der phantastischen Literatur. Die Djinns, oder auch einfach nur Flaschengeister genannt, sind mächtige Geisterwesen aus einer anderen, elementaren Ebene, die über gewaltige Fähigkeiten verfügen. Immerhin können sie in der ganz klassischen Variante ja auch Wünsche erfüllen.
Keine bezaubernde Dschinni oder blauer Wünscheerfüller aus "Disneys Aladdin", sondern eher gehörnte Dämonen. Auch vom Verhalten her sind die Dschinnis wesentlich bösartiger und grausamer als man es so langläufig kennt. Dschinns werden eher mit Dämonen gleichgesetzt. Dies macht die Sache schonmal interessanter.
Ein weiteres, interessantes Beispiel für einen Dschinn gibt es in den "Battle Chasers" Comics von Joe Madureira: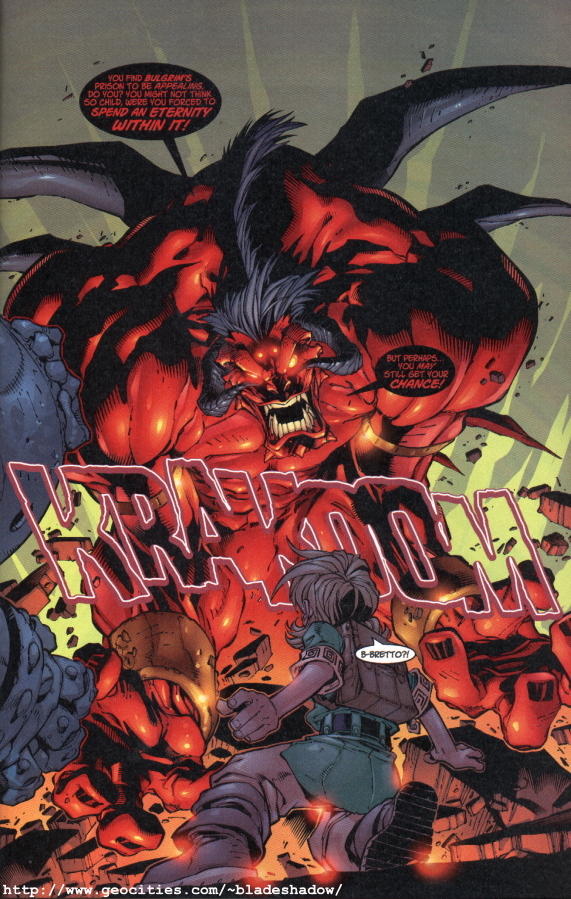 Und YES! Bulgrim rocks! Der Dschinn ist in einem Armreif gefangen und jeder, der den Armreif anlegt wird zum Wirt des Geistes und sein willenloser Sklave.
Gaia: Dschinns kann ich mir in Form von Kirathus auf Gaia vorstellen. Sie könnten nach ihrer Beschwörung an Maschinen oder Schmuckgegenstände gebunden sein. Ähnlich wie bei Bulgrim könnte diese Einkerkerung aber nach hinten los gehen und der Träger des Gegenstandes oder die Maschine wird zum Wirtskörper des Dämons.
Cimorra: Auch hier könnten Dschinns Dämonen sein, die in Gegenständen eingekerkert wurden, um Magiern dienstbar zu sein.
The Black Galaxy: Siehe Gaia & Cimorra.
Doppelganger
Doppelgänger sind eine sehr coole Angelegenheit. Je nach Setting können sie übernatürliche Wesenheiten, eine befremdliche Rasse oder ein auch eine Alienrasse eines SF-Universums sein, wie z.B. Odo bei Star Trek: Deep Space Nine. Sie sind sehr flexibel in ihrer Einsatzweise und können auch unter Umständen als Spielerrasse herhalten. Wir hatten in unserer Runde einst einen Doppelgänger als SC und es war eine total coole und interessante Erfahrung auch für mich als Spielleiter.
Ob ein Doppelgänger in seiner Rohform nun ein Schleimhaufen oder eine humanoide Gestalt hat ist eigentlich nebensächlich und vom Settung und vom Geschmack des Spielleiters abhängig.
Interessant ist diesbezüglich auch das Konzept des Shoggothenlords, wie er z.B. als Mr. Shiny im Cthulhu Malleus Monstrorum eingetragen ist. Dabei handelt es sich um einen intelligenten Shoggothen, der die Gestalt eines Menschen annehmen kann. Auch eine sehr geniale Idee, wie man einen Doppelgänger definieren kann. Überhaupt gibt es ja im Cthulhumythos einige Mythoswesen, welche die Gestalt von Menschen annehmen oder zumindest sich als diese verkleiden (siehe "Der Flüsterer im Dunkeln").
Und da ist auch noch der T-1000 aus "Terminator 2": Der gestaltenwandelnde Killerandroid war und ist einfach eine Ikone und kann als modifizierter Doppelgänger auch sehr gut in SF-Rollenspielen Verwendung finden.
Gaia: Auf Gaia könnten Doppelgänger als Kirathus, als seelenlose Maschinenwesen IOs oder auch als Geschöpfe der Zhaiarac-Alchemisten sein.
Cimorra: Hier könnten Doppelgänger als Dämonen, Shoggothenlords oder andere, bizarre Lebewesen vorkommen.
The Black Galaxy: Neben den erwähnten "Modellen" von Gaia und Cimorra kann natürlich hier auch der Cyberassassin eingesetzt werden. Ich stelle mir dabei zum Beispiel auch eine Art Waffe vor, bei der Hunderte von T-1000 Cyborgs mittels Torpedos auf einen Planeten abgefeuert werden. Nach dem Aufschlag sickern die Maschinenwesen aus den Torpedos heraus und beginnen, die Herrscher des Planeten zu assimilieren. Ist dies gelungen, kann der Planet einfach übernommen werden.
Dragonne & Dragon Turtle
Ich will gar nicht so sehr auf den Drachenlöwen oder Löwendrachen oder sonst wie eingehen, denn es handelt sich dabei nur um eine Abart der Chimäre. Ebenso die Drachenschildkröte, die auch als eine Art Mischwesen definiert und behandelt werden kann. Also nix neues und nichts besonderes.
Gehen wir also weiter...
Bei den folgenden beiden Wesen reicht es im Grunde aus, mich selbst noch einmal zu zitieren:
[Weltenbau] EDO in WS&S/P-Settings
Dryad
Dryaden werden oft als scheue, weibliche Baumgeister dargestellt, was aber recht langweilig ist. Interessanter wird es, wenn sie sich nur als solche tarnen und ich wahrheit blutlüsternde und boshafte Geisterwesen sind.
"Mir fallen da zum Beispiel die Dryaden und Baumschrate ein, wie sie in der Warhammerwelt dargestellt werden:

Knorrige, bösartige Baumdämonen, welche ihren Wald gegen Eindringlinge jedwelcher Art verteidigen. So zumindest eine Möglichkeit. Eine weitere Version wären zum Beispiel der Baumdämon aus "A Chinese Ghost Story", der sich in Form einer alten Hexe oder einer dämonischen Zunge manifestiert und niedere Geister dazu versklavt, Beute für ihn anzulocken. Alternativ könnten sie auch niedere Wesenheiten im Dienste von Shub-Niggurath, der Grünen Gottheit oder andere, entsprechender Mächte." - Selbstzitat
Auch denke ich gerade an die Baumgeister aus "Tomb Raider 2". Auch gäbe es die Möglichkeit, die Dryaden als eine Art Volk zu sehen, welches zum Beispiel die Elfen ersetzt.
Gaia: Auf Gaia gibt es Dryaden im Alten Wald. Diese sind Geister, welche dem Herrn des Waldes und seinen Druiden dienen und den Wald vor unerlaubten Eindringlingen schützen. Da ich aber in den letzten Jahren viel an dem Konzept des Alten Waldes herumgefeilt habe, kann es sein, dass sich da noch Einiges ändern wird. Daher sind die Info eher mit Vorsicht zu betrachten.
Cimorra: Auf Cimorra könnte ich mir Dryaden sehr gut als Kreaturen von Shub-Niggurath vorstellen, welche einen Schrein der Göttin bewachen oder als ihre Boten fungieren.
The Black Galaxy: Dryaden können hier die Bewohner einer reichhaltigen Dschungel- oder Waldwelt sein. Vielleicht auch irgendwelche dämonische Kreaturen aus dem Äther oder einer anderen Dimension, welche Bäume als Portal verwenden. Die Möglichkeiten hier sind - wie immer - sehr umfangreich.
Dwarf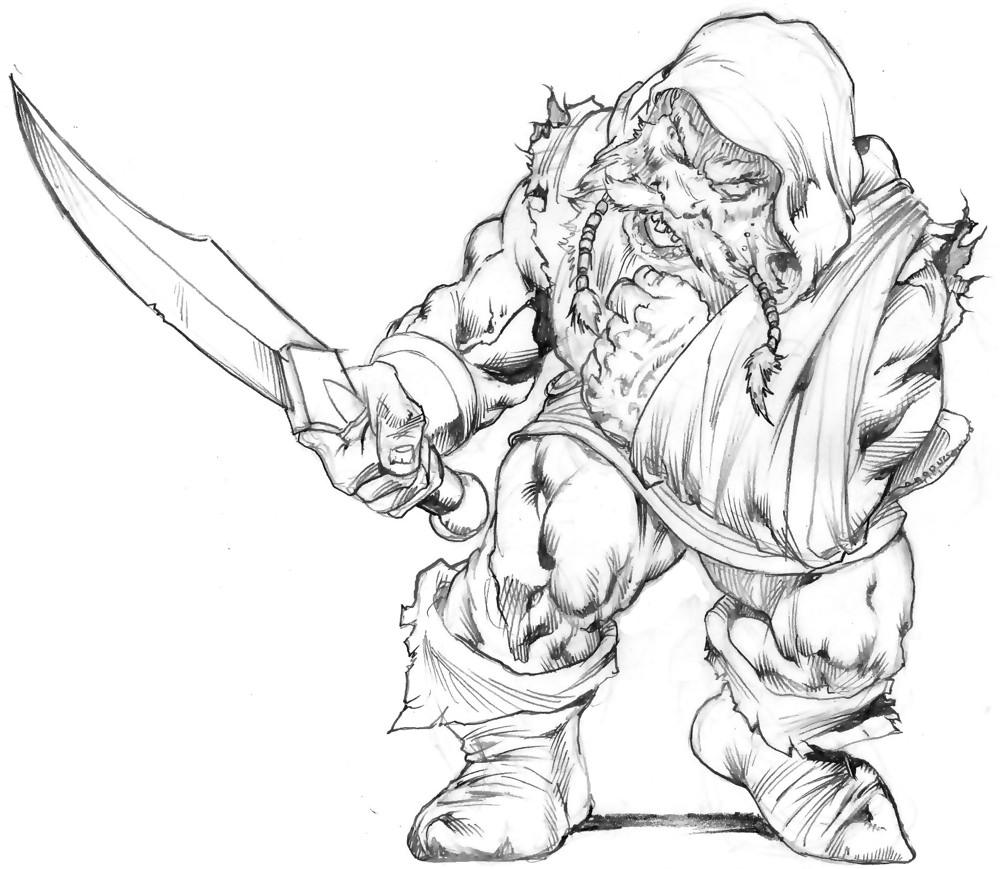 "Auch bei den Zwergen gibt es mehr Möglichkeiten, wie man sie in die Sword & Sorcery übertragen kann, als nur barttragende Axtschwinger. Obwohl man auch diesen, recht bekannten Aspekt der Zwerge gut in die Sword & Sorcery übertragen kann. Hier kann man schön das stereotype Bild der Zwerge aufbrechen und diese als kleinwüchsiges Äquivalent zu den Menschen hernehmen. Zwerge können sehr gute Barbaren, Pfadfinder, Piraten oder auch Gladiatoren abgeben und sich so von dem all zu klassischen Bild der Bergwerkers lösen.

Eine andere Version für Zwerge wären zum Beispiel die Tcho-Tcho, die Miri Nigri und ähnliche Völker des Cthulhu-Mythos.Wie schon bei den Halblingen erwähnt, ist der Cthulhu-Mythos voll mit kleinwüchsigen Völkern, die im Verborgenen agieren, ihre finsteren Götter anbeten, ihnen Menschenopfer darbringen oder sich von Menschenfleisch ernähren." - Selbstzitat
Ich glaube, ich muss dem kaum noch was hinzufügen. Zwerge sind meiner Meinung nach sehr flexibel und können so genial angepasst und modifziert, dass es richtig Spaß macht, sich neue Varianten des kleinen Volkes auszudenken.
Gaia: Auf Gaia gibt es recht klassische Zwerge, mit allem was dazu gehört. Also auch Bergwerke und Äxte und Zwergenbier. Aber auch mit Technomanten, Golems und Gattlingkanonen. Desweiteren gibt ers noch unterschiedliche Zwergenvölker mit eigenen Kulturen und Sprachen.
Cimorra: Hier sind Zwerge eher degenerierte Menschen, kannibalistische Pygmäen oder halbmenschliche Mischwesen, ähnlich den Tcho-Tcho oder den Miri Nigri.
The Black Galaxy:
Hier gilt wieder das Prinzip: "Alles ist möglich!"