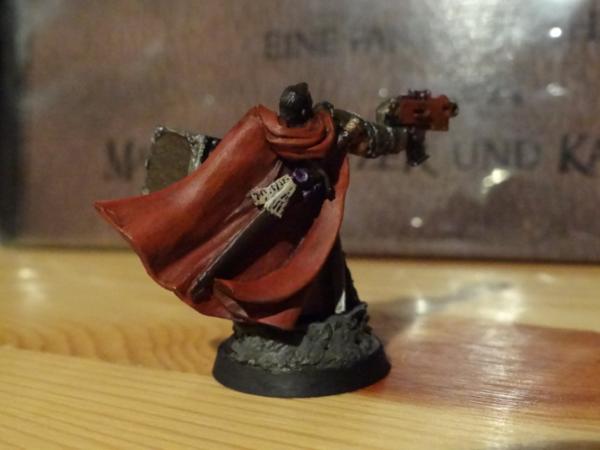 Neue Woche, neue Mini! Bis jetzt hat er noch keinen Namen. Er läuft unter dem Pseudonym "The Jugde" (wenn ich ihn jetzt noch Joseph Dredd nennen würde, wäre das irgendwie arg billig). Ich bin davon ausgegangen, dass er ein sehr weltlicher Inquisitor der Ordo Hereticus ist, der aus den Reihen des Adeptus Arbites abkommandiert wurde. Er ist ein einfacher, harter Krieger für die Gerechtigkeit des Imperiums und jagt Ketzer, Verbrecher und Rebellen, wo er nur kann.
Die Mini ist kein Umbau, sondern "straight out of the blister". Diesmal habe ich die Technik verwendet, wie sie im aktuellen White Dwarf im Blanchitsu-Artikel beschreiben wird: Nach dem Auftragen der Grundfarben (ich nutzte fast nur Foundation Farben) wird die gesamte Miniatur mit Gryphonne Sepia getuscht. Die Goldteile habe ich zudem mit Thraka Green, die anderen Metallteile mit Asurmen Blue getuscht. Dann kamen noch ein paar Details und Highlights hin und schon war er fertig.
Vor dem Tuschen sah er recht...hmm...ich sage es mal milde... scheiße aus, aber nach dem Tuschen hat er mir dann wieder sofort gefallen. Das Tuschen gibt der Figur extrem viel Stimmung und Tiefe und holt unheimlich viel aus ihr heraus. Ohne Tusche kann ich mir das Bemalen gar nicht mehr vorstellen.